In Ubud kan je niet over straat lopen zonder aangesproken te worden door iemand die tickets verkoopt voor een traditionele Balinese dansvoorstelling. Binnen de traditionele Balinese dans zijn Barong, Legong en Kecak de populairste. Bij Barong en Legong mag je je verwachten aan een spektakel waarbij zeer expressief gedanst wordt op instrumentale gamelan muziek. Maar wij zijn vooral geïnteresseerd in de Kecak en de Sanghyang dans waarbij de dansers in een trance geraken.
Kecak Dans
De Kecak dans begint met 60 mannen in geruite rokken die zich in een cirkel rond het vuur zetten. Ze beginnen langzaam te zingen. Cak Cak Cak. Hun lichamen slingeren zich rond de vlammen. Het tempo versnelt. Cak Cak Cak. De mannen gooien hun armen omhoog en laten hun handen draaien rond het vuur. Het is een spektakel van licht, schaduwen en klakkende tongen.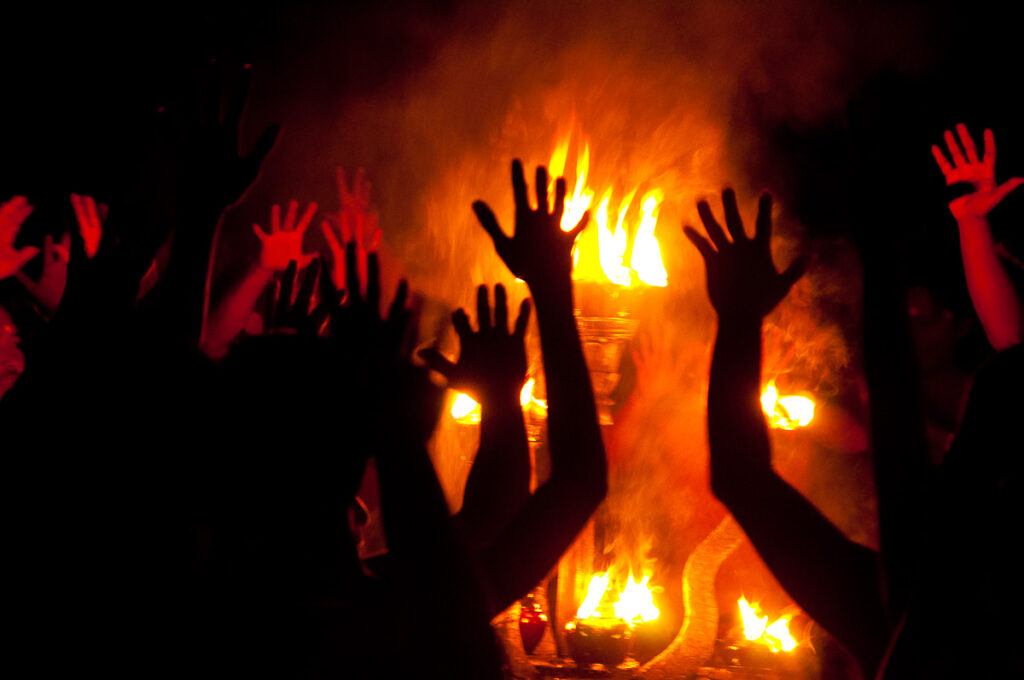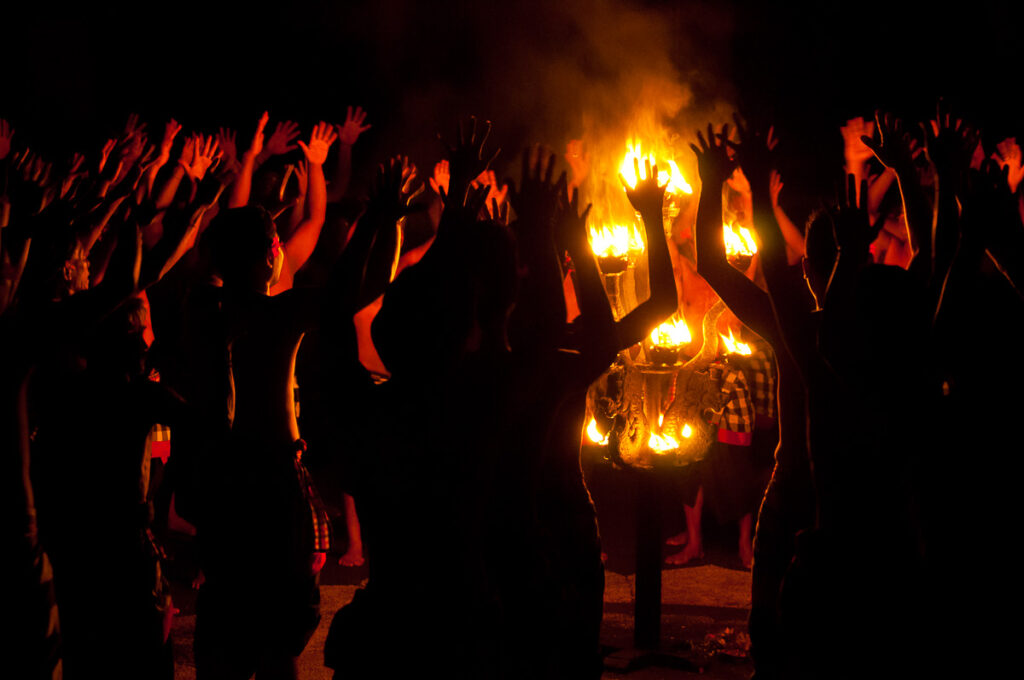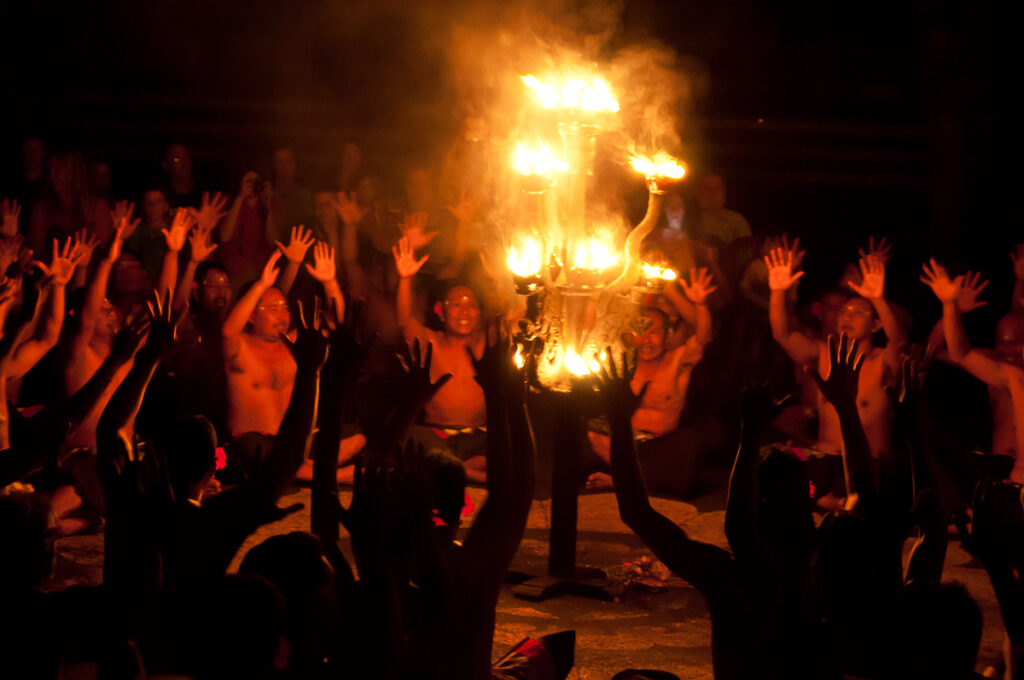 De Balinese Kecak dans heeft roots in Sanghyan, een vorm van exorcisme waardoor de mannen langzaam in trance gebracht worden. Maar de Kecak is tegenwoordig een combinatie van Sanghyan en het Hindoeïstische Ramayana verhaal. Het typische Cak Cak Cak geluid symboliseert de roep van de Ramayana aap. Tijdens de dans duiken er ook dansers op in maskers en kostuums die zich in slow motion tussen de andere mannen gaan bewegen. Het is een echt spektakel waarbij je zelf meegevoerd wordt op de tonen van het gezang. Een absolute aanrader om te zien.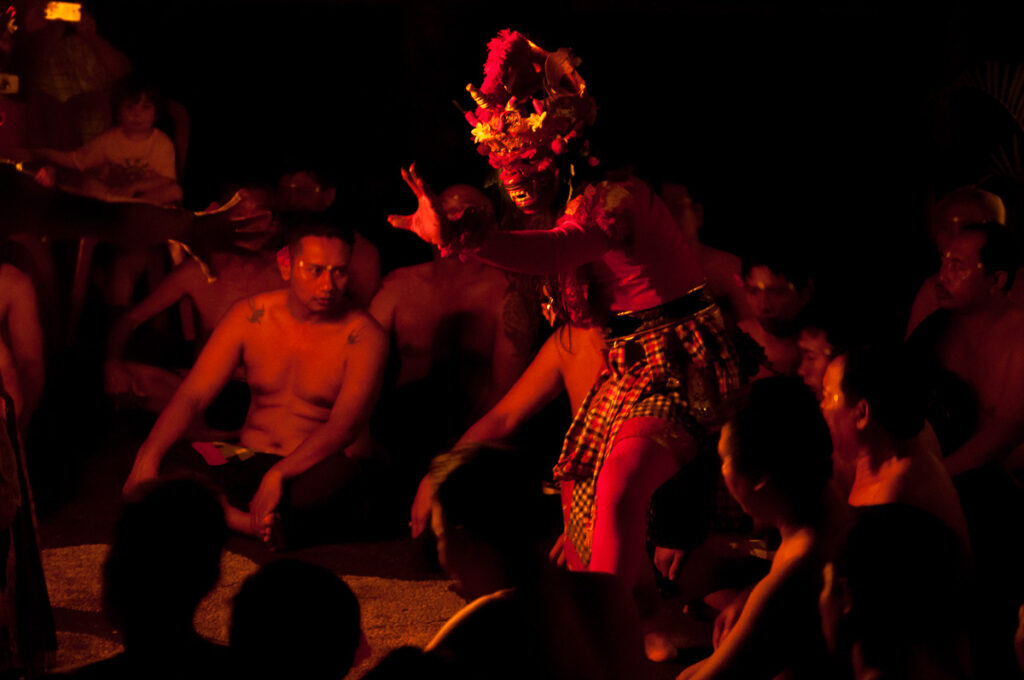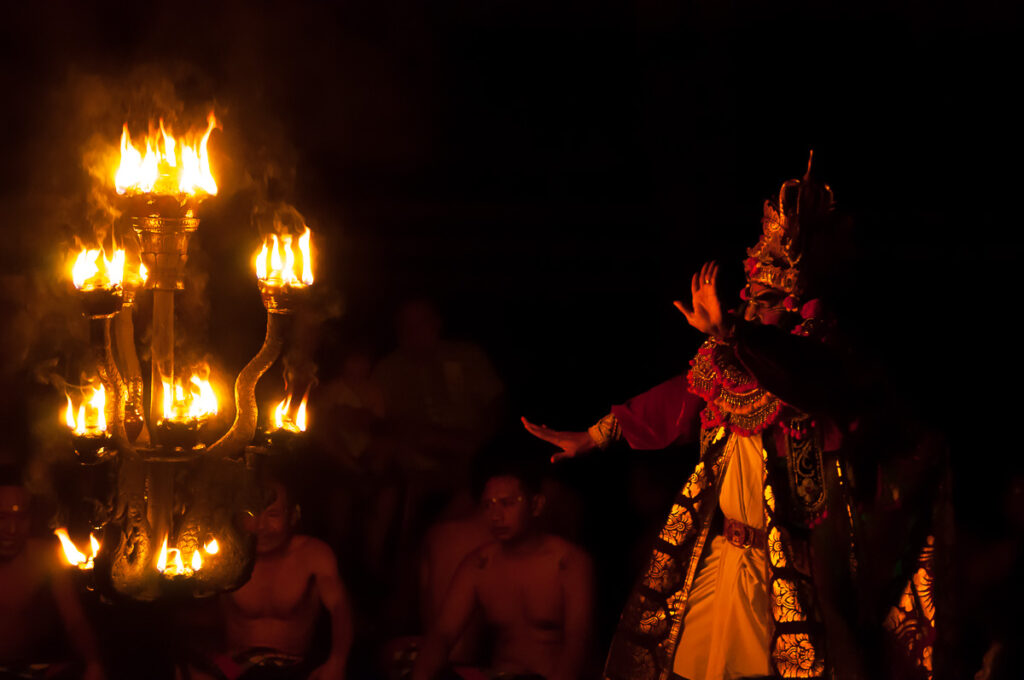 Sanghyang Jaran Dance
De show sluit af met de Sanghyan Jaran Dance een dans die opgenomen werd als werelderfgoed en die eigenlijk niet voor toeristen mag uitgevoerd worden. Daar waar Barong, Legong en Kecak behoren tot de entertainment dansen is de Sanghyang dans een Wali of heilige dans waarbij de hyang, een spirituele goddelijke of voorouderlijke kracht het lichaam van de danser overneemt. De danser, die in trance is, rijdt op een hobbelpaard en danst met blote voeten over vuur. Na de performance zal de danser zich niets meer herinneren van de dans en deze ook nooit meer exact op dezelfde manier kunnen uitvoeren. Het is niet zozeer het vuurlopen dat spectaculair is maar de man die er als een bezeten paard lijkt over te steigeren.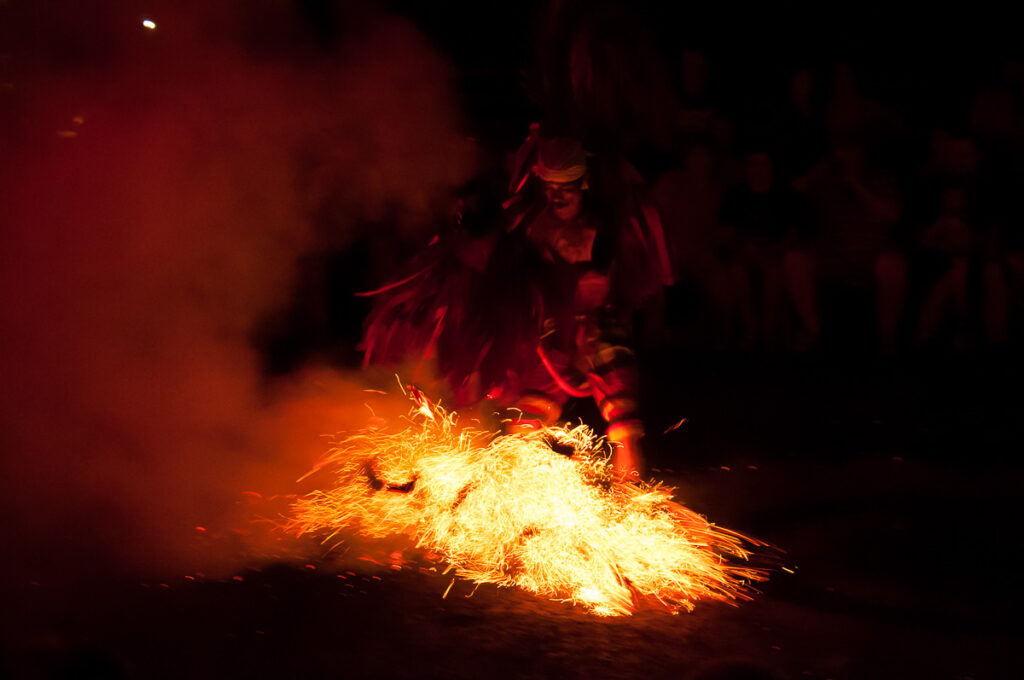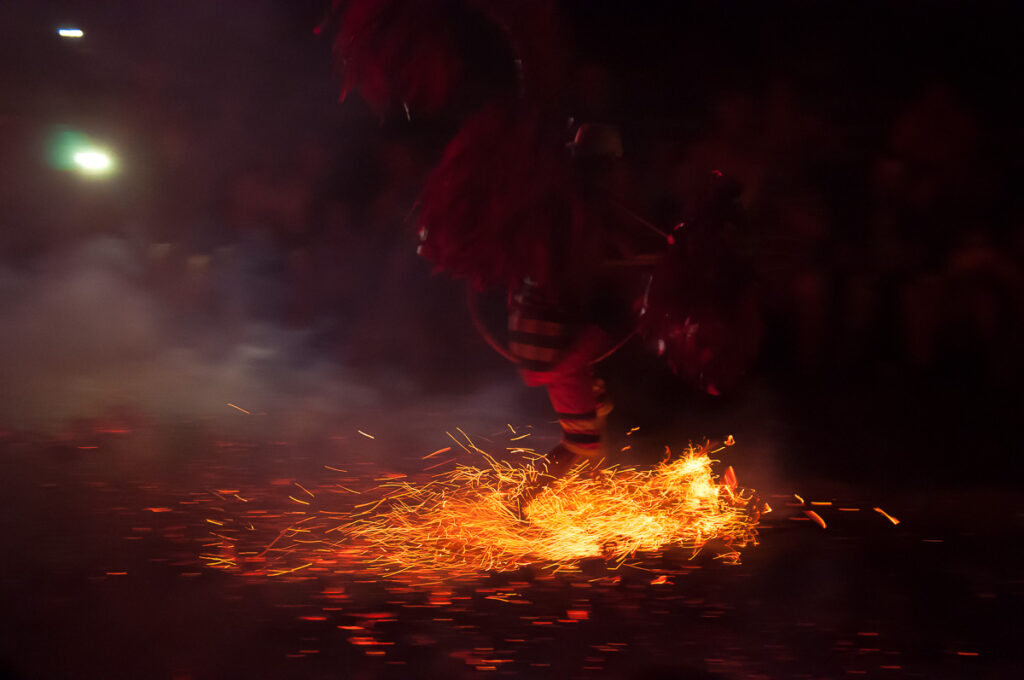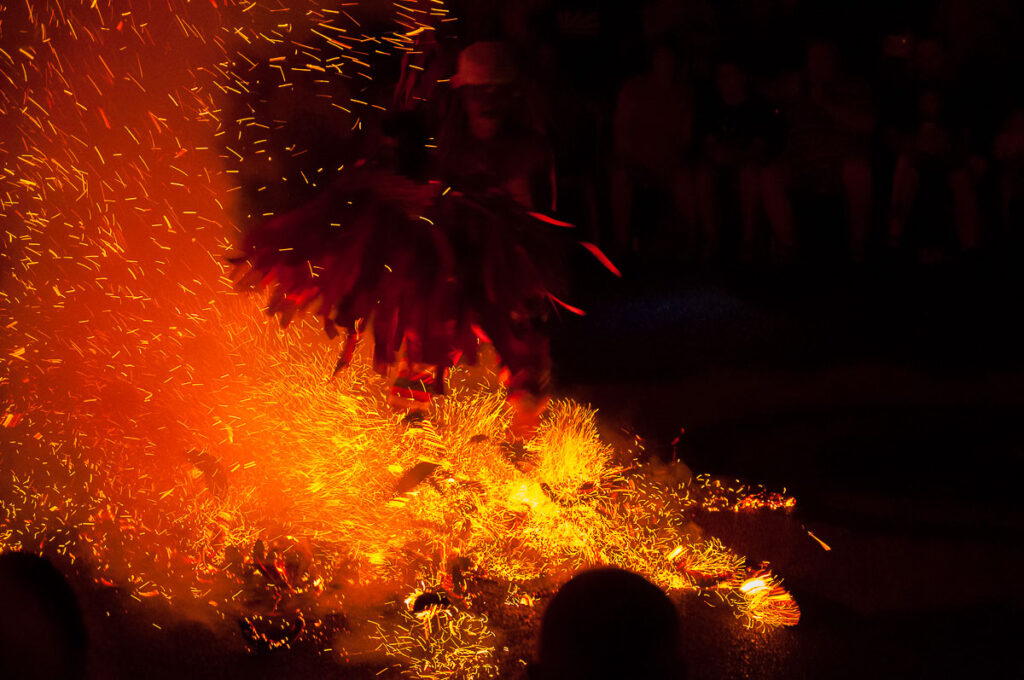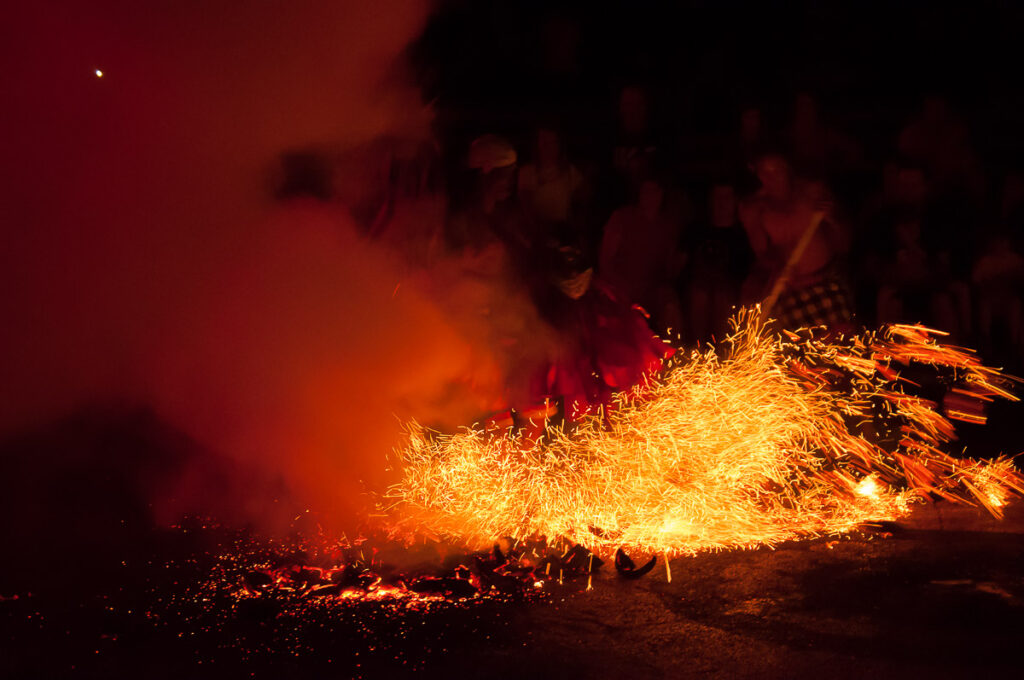 Praktisch
We gingen de show zien in Pura Dalem Taman Kaja in Ubud. Tickets kochten we gewoon op straat bij een verkoper.