Duizenden brommers en scooters zoemen door de straten. Straten met namen die niet lijken te kloppen met die in je reisgids. De weg vragen aan de locals is vaak zinloos want de meesten spreken enkel Vietnamees. Yup, Hanoi is craziness. Maar gelukkig helpen wij je op weg. In deze gids laten we je zien wat je zeker moet zien en doen in Hanoi.
Hoan Kiem District
Het Hoan Kiem District is de place to be in Hanoi. Het district omvat namelijk ook het oude kwartier. De meeste dingen die je niet wil missen, liggen in dit gebied of zijn heel makkelijk te bereiken vanuit dit gedeelte.
Hoan Kiem meer
Het Hoan Kiem meer ligt vlak in het centrum van het district en is de ideale plek om jezelf op te oriënteren. Maar er is ook een coole legende over het meer waarin een schildpad en een magisch zwaard de hoofdrol spelen.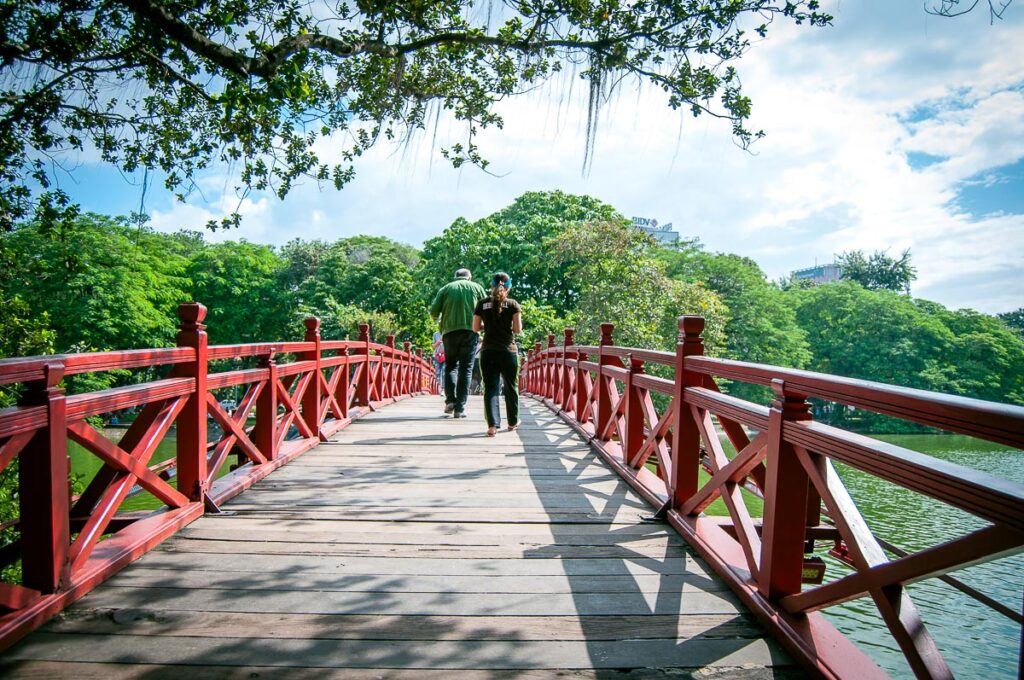 De korte versie gaat als volgt: Keizer Le Thai To kreeg een magisch zwaard van de goden om de Chinezen uit Vietnam te verdrijven. Nadat hij de oorlog had gewonnen ging hij varen op het meer. Een gouden schildpad dook op en vroeg het magische zwaard terug en bracht het terug naar de goden. Vandaar ook de naam Hoan Kiem meer ofwel meer van het teruggebrachte zwaard.
Het meer is trouwens ook een zeer populaire plek bij de locals die er de hele dag door komen voor wat Tai Chi. Er liggen twee kleine eilanden in het meer die de moeite waard zijn. Op het eerste eiland vind je de Thap Rua of de Turtle tower. Op het tweede vind je de Ngoc Son tempel die je kan bereiken via de Huc bridge of brug van de reizende zon. Het tempeltje vonden wij minder de moeite waard. Wel heb je er een mooi zicht op het hele meer en de Turtle Tower.
Thang Long waterpoppentheater
Wanneer je aan het meer de straat oversteekt kom je bij het waterpoppenteater ook wel Roi Nuoc genoemd. De shows zijn zeer toeristisch maar desalniettemin toch een aanrader. Je krijgt 14 verschillende kortverhalen te zien die eeuwen geleden werden uitgevonden en uitgevoerd door lokale boeren. De boeren wilden met de verhalen de bevolking vooral entertainen en doen lachen.
Verwacht je dus vooral aan heel wat slapstick humor zoals een visser die niet de vis maar zijn vrouw in zijn netten strikt. Maar gelukkig word je ook getrakteerd op een aantal oude mythes zoals de legende van het Hoan Kiem meer en de dans van de magische dieren. Het spektakel met feeën, draken, eenhoorns en feniksen is ietwat over the top maar een must see. Probeer wel zitjes te krijgen op één van de eerste rijen.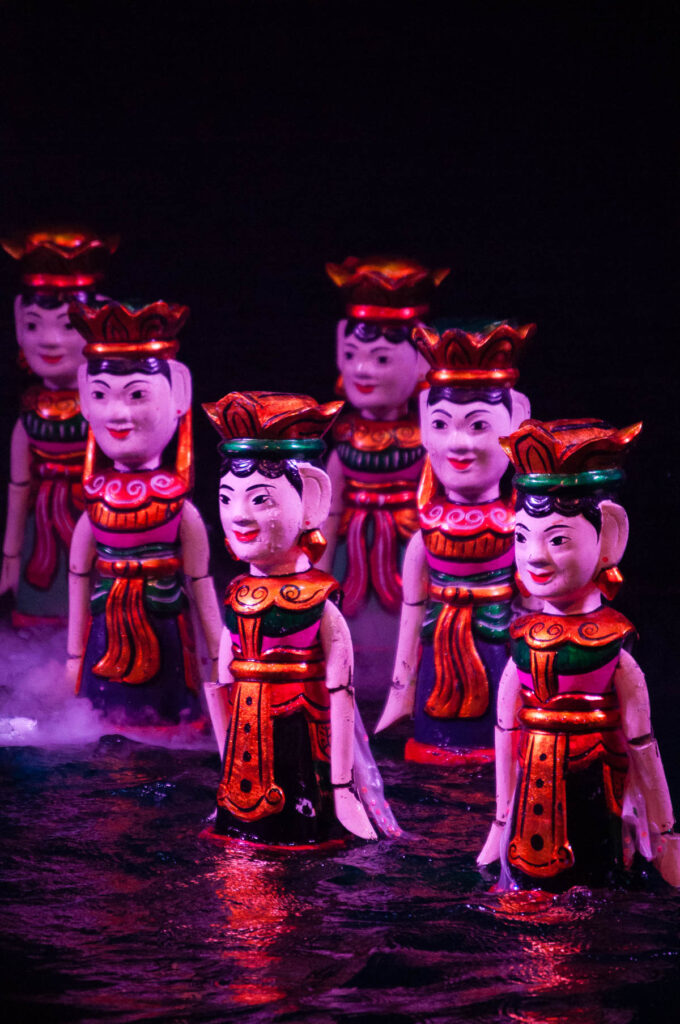 Honger na de show? Ga dan iets eten bij Wraps & Rolls. Je vindt er spring rolls en nems met allerlei soorten vullingen. Voor wie wat avontuurlijker is aangelegd: koop iets van de verkoopsters die je rond het meer vindt. Er zijn heel wat gekke snacks die je eens kan proberen. Wij probeerden er enkele, met wisselend succes.
De Hoa Lo gevangenis
Ten zuiden van het meer ligt de Hoa Lo gevangenis. Een plek die je inzicht geeft in twee belangrijke periodes in de Vietnamese geschiedenis. De eerste periode vertelt het verhaal van de Fransen die de gevangenis bouwden om de Vietnamese revolutionairen op te sluiten. Het toont hoe de Vietnamezen gefolterd en zelfs onthoofd werden. De Franse guillotine die er staat is daar nog een gruwelijk bewijs van. Maar het verhaal legt vooral de nadruk op hoe de Vietnamezen zich niet lieten doen. Ze zouden naar het schijnt de gevangenis hebben omgetoverd tot een geheime leerschool voor socialistische ideeën. Brieven en artikels werden verstopt in de muren, al zijn daar weinig bewijzen van.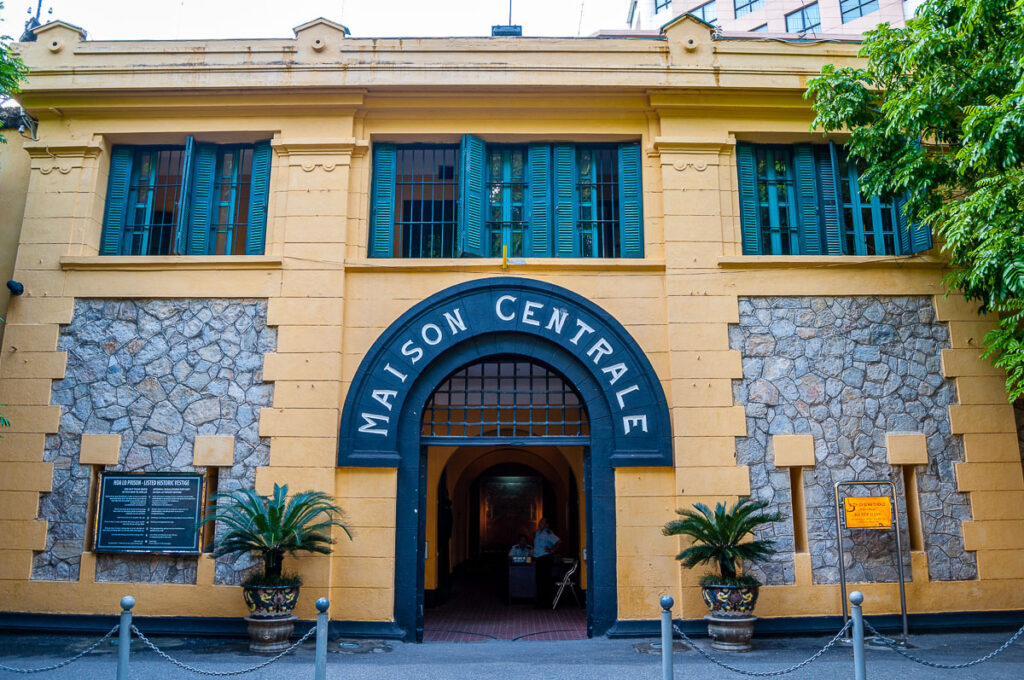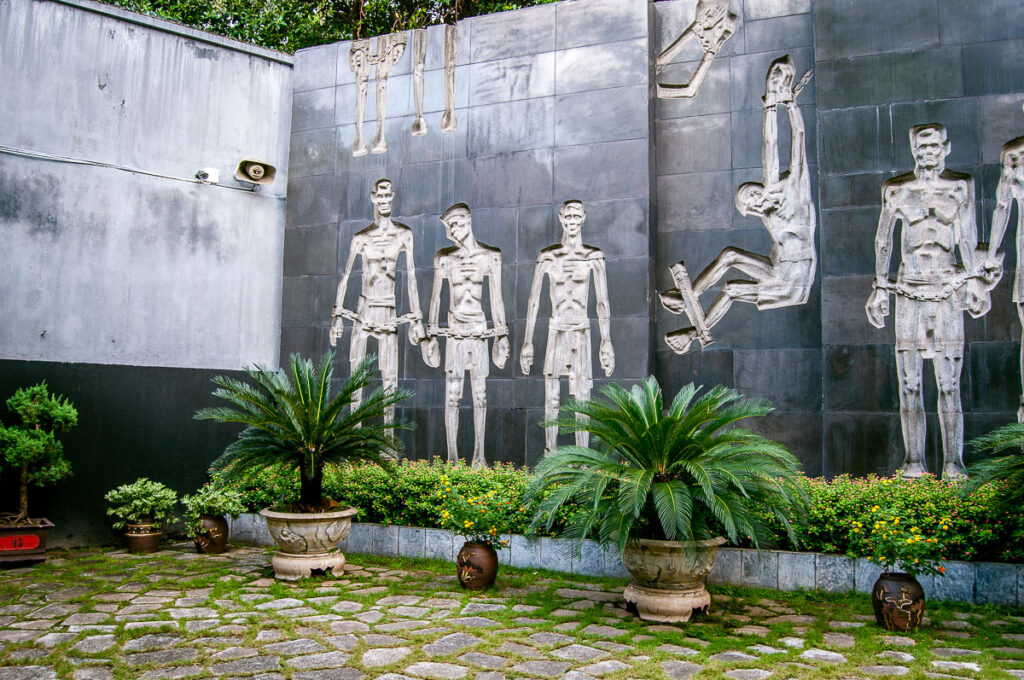 De tweede periode vertelt hoe de Vietnamezen op hun beurt de Amerikanen hier opsloten tijdens de Vietnam oorlog. Maar hier krijgen we een verhaal te zien van hoe de US piloten goed behandeld werden. Zij konden basketbal spelen en pakketjes ontvangen van het thuisfront. Ze kregen zelfs medische hulp. De soldaten zouden de gevangenis de bijnaam Hanoi Hilton gegeven hebben. Het is lastig om te weten wat waarheid is en wat propaganda maar de gevangenis blijft desondanks echt de moeite om te bezoeken.
Het oude kwartier
Het oude kwartier is een fascinerend district om rond te dolen. Elke straat verkoopt zijn eigen specialiteiten. Zo is er een straat met alleen maar schoenenwinkels, een straat met ijzersmeden en een straat met zijde kleding. Maar de allerleukste volgens ons is de P Luong Van Can straat die volgestouwd is met feestattributen en knuffels. Vrolijkheid gegarandeerd!
Wandel zeker eens tot aan de oostelijke poort, Cua O Quan Chong. Zet je neer aan een cafeetje op de hoek, bestel iets lekkers en staar een tijdje naar de vele voorbijgangers: brommertjes die mekaar net niet omver rijden, de mannen met typische koloniale hoeden en de vele straatverkopers.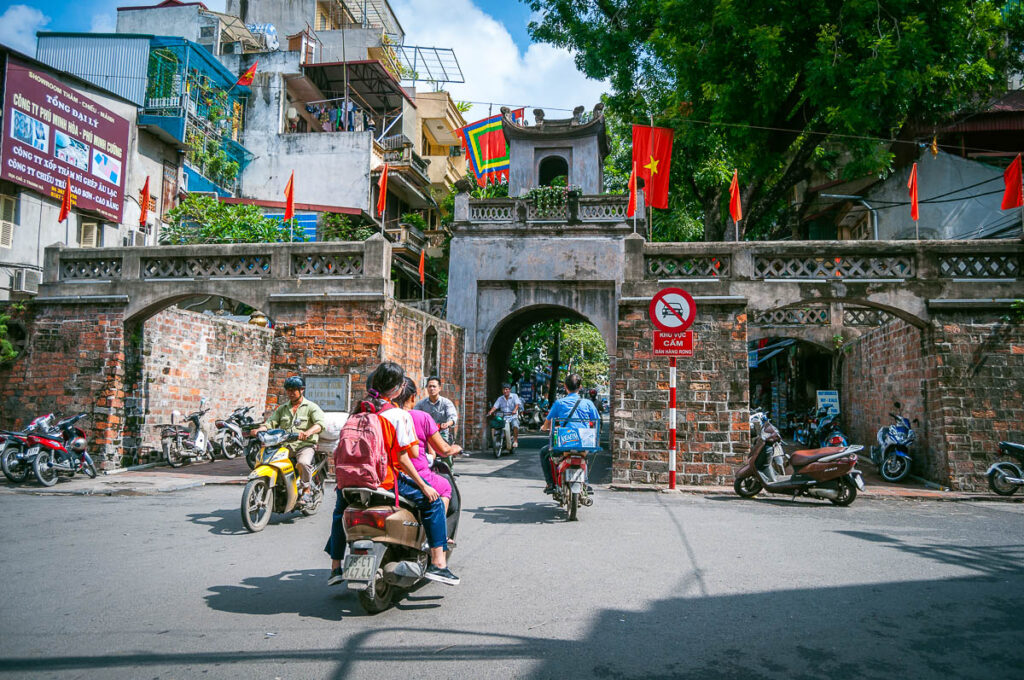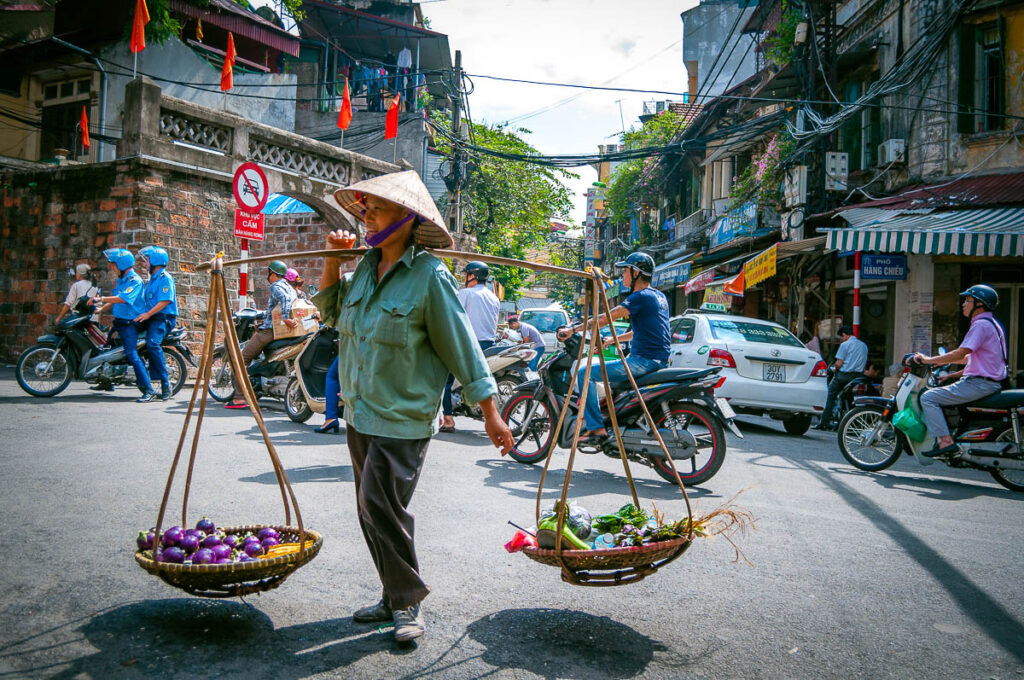 Of zet je neer op één van vele plastieken stoeltjes en bestel wat street food.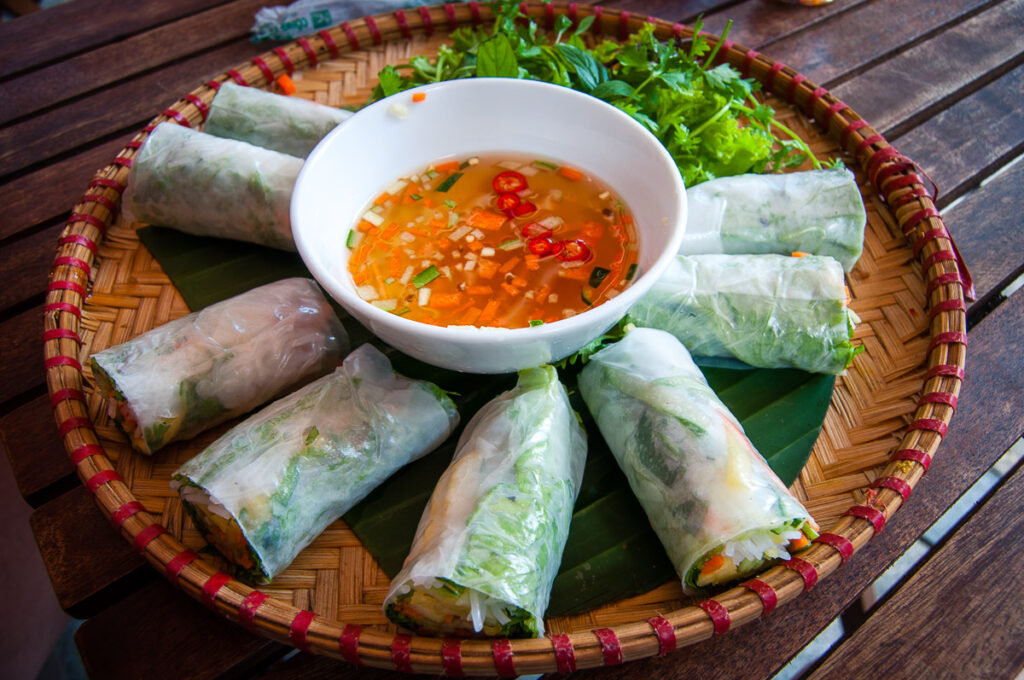 Er zijn duizenden street food stalls en bars in de buurt van backpacker straten Ma May, Hang Bac en Hang Be. Probeer zeker eens een Bahn My sandwich, een stokbrood gevuld met vlees, gepelde groenten en koriander. Bahn My P is een bar waar je verschillende varianten eens kan uitproberen. Er zijn ook veggie varianten 😉
Nog een must try is Vietnamese ijskoffie, ca phe sua da. Ga zeker eens naar Cong Caphé waar je een luxe versie met kokosnootijs kan proberen. Het is een hipster koffiehuis in Viet Cong thema en onze favoriete koffiebar in Vietnam.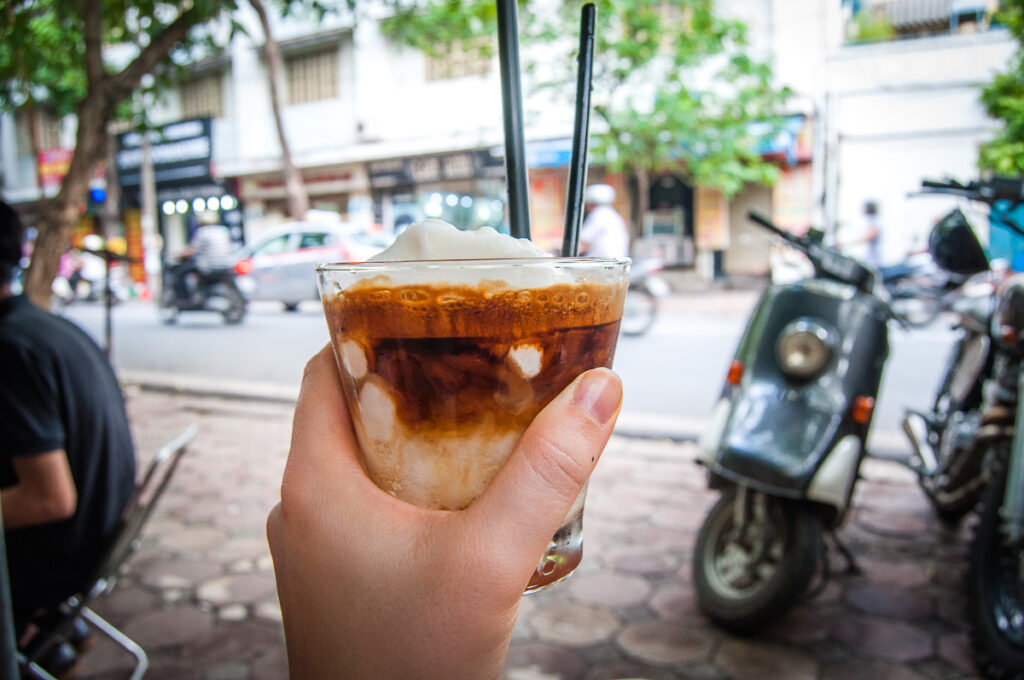 Bia Hoi
Voor wie 's avonds graag de dag doorspoelt met een fris pintje zijn er natuurlijk nog de Bia Hoi's. Dit zijn lokale cafeetjes waar ze enkel bier serveren. De meest authentieke zijn diegene waar er alleen maar lokale mannen in grote getallen op plastic stoeltjes zitten. Zet je er gewoon gezellig bij en voor je het weet krijg je een halve liter lokaal bier voorgeschoteld voor 5000 dong of 20 eurocent.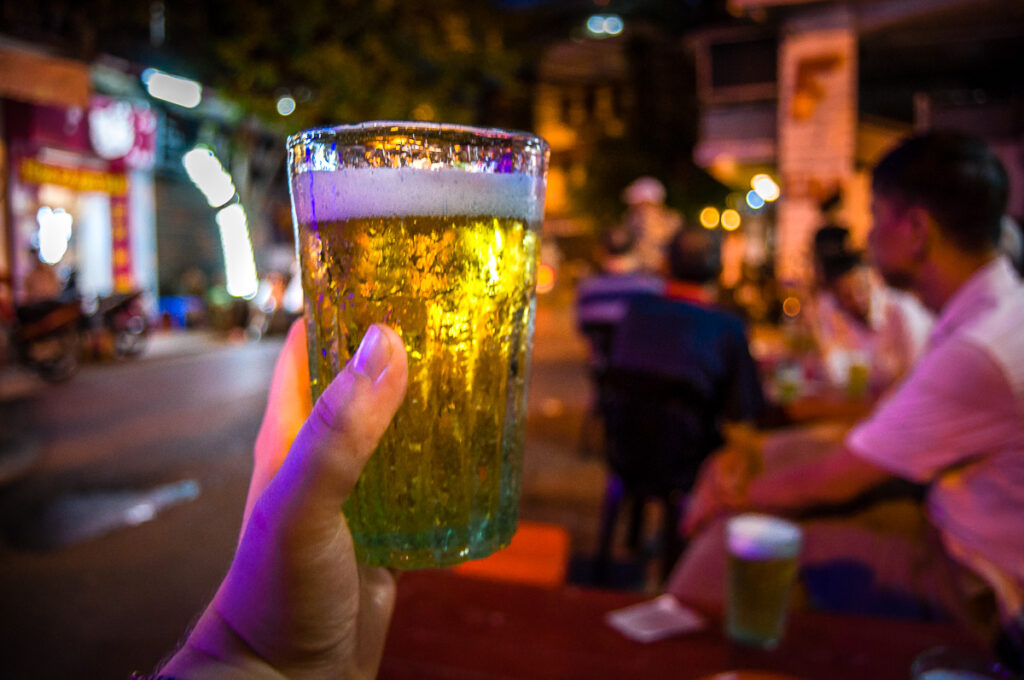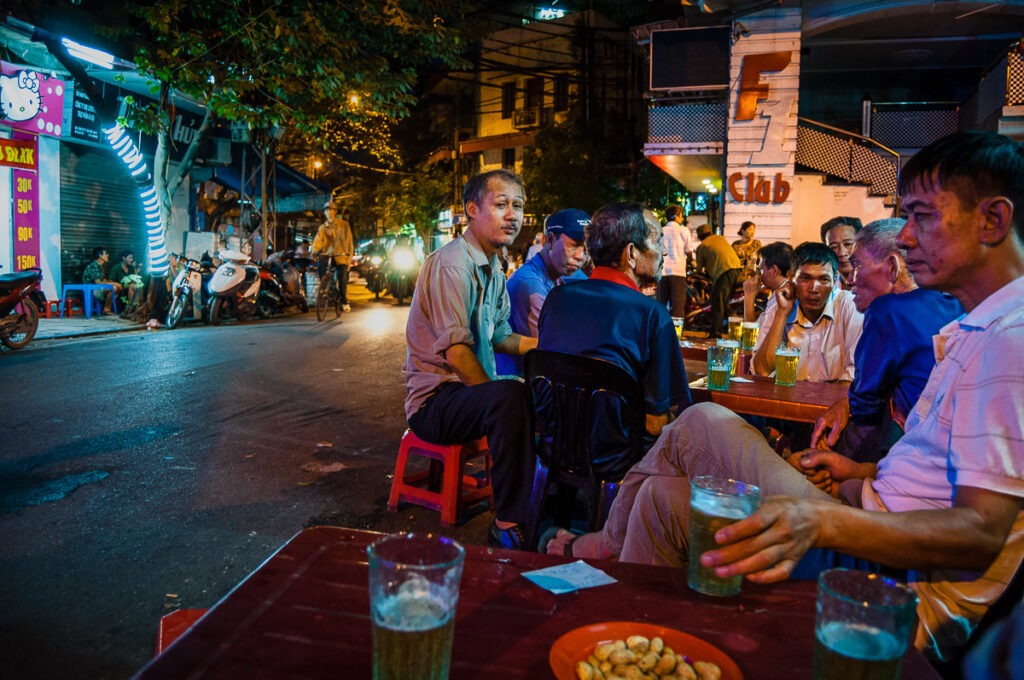 De barvrouw zal een bierviltje op je tafel leggen en telkens je een nieuw biertje bestelt een streepje trekken. Maar is het wel een goed idee om als vrouw alleen naar zo een Bia Hoi te gaan? Ja hoor. De mannen zullen waarschijnlijk wel wat verbaasd kijken en wat grapjes maken maar dat maakt het er alleen maar boeiender op. Het bier is trouwens lekker fris en zeker te smaken!
De Long Bien brug
Heb je nog zin in een avondwandeling? Ga dan zeker rond zonsondergang naar de Long Bien brug. De brug verbindt de stad met de buitenwijken en bij het vallen van de avond zoeven er dan ook duizenden brommertjes overheen. De compleet verroeste brug zou ontworpen zijn door Gustave Eiffel. Momenteel voelt ze vooral een beetje krakkemikkig aan als je erover loopt maar het uitzicht op de rivier is echt de moeite waard.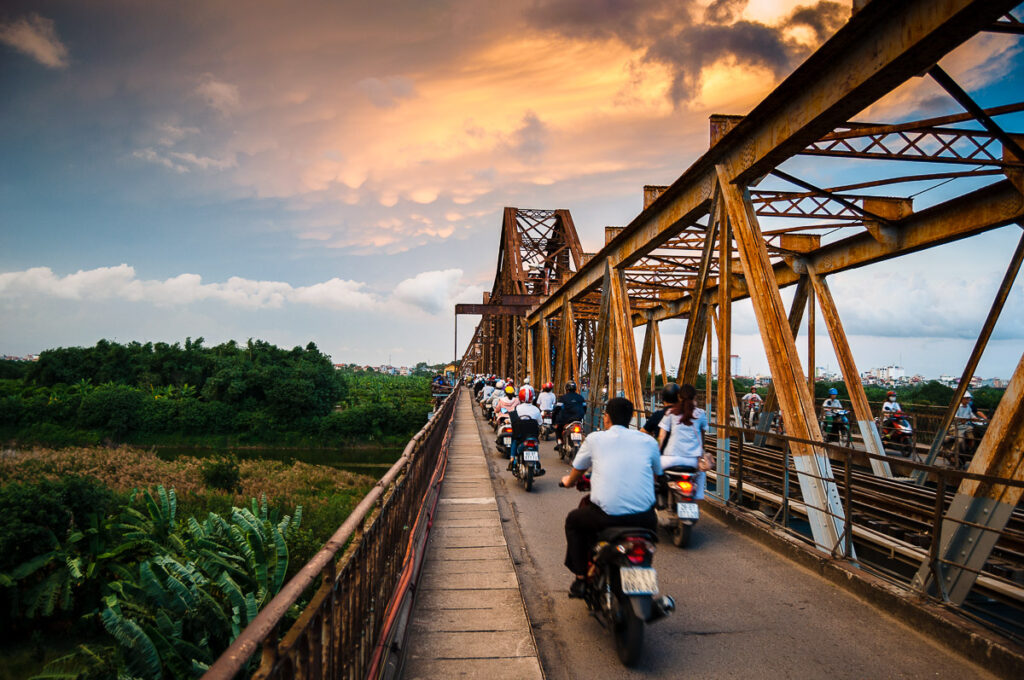 Dong Da District
Het Dong Da district in het westen van Hoan Kiem Er is eigenlijk maar is grote must see in het Dong Da district maar het is er eentje die je zeker niet mag missen.
De Temple of literature
De Temple of Literature is een mooi voorbeeld van traditionele Vietnamese architectuur. De tempel werd opgericht in 1070 ter ere van Confucius en was bovendien de eerste universiteit van de stad. Binnen kan je stenen zuilen vinden waarop de namen staan van uitzonderlijke studenten in de literatuur. Maar het zijn vooral de mooie gebouwen en de rustige tuin met zijn waterelementen die het de moeite waard maken om even rustig door te kuieren. Wij hadden geluk dat er net een afstudeerceremonie plaats vond waarbij alle meisjes de traditionele Ao Dai jurk droegen. De jongens waren dan weer de stoerheid zelve.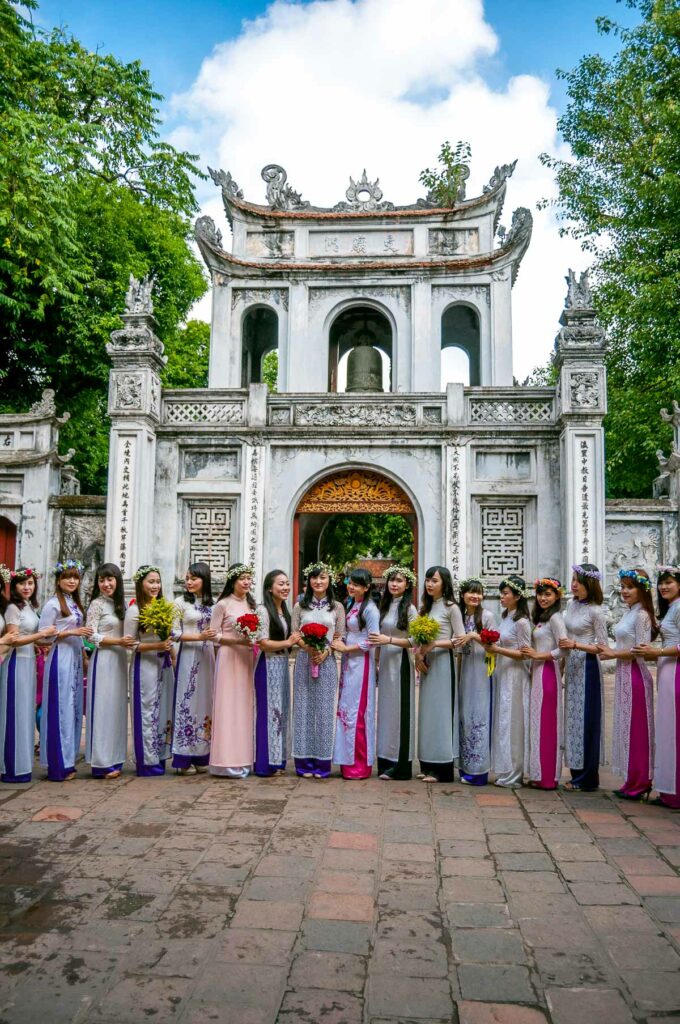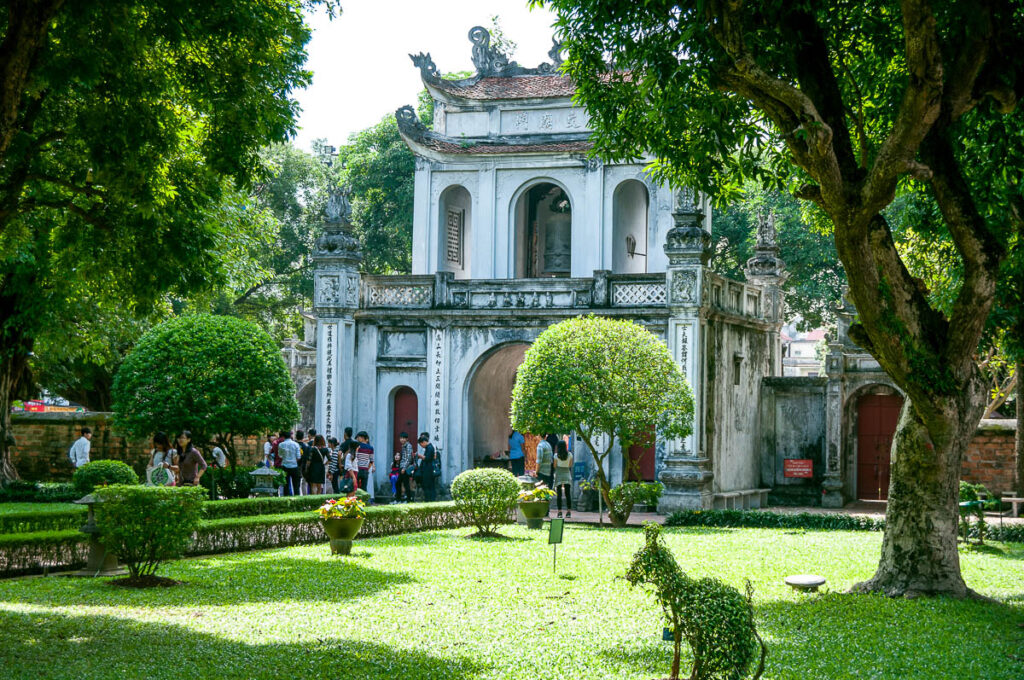 Het Da Dinh district
Ho Chi Minh Mausoleum
Uncle Ho is een nationale held in Vietnam en dus hebben ze hem een imposant graf cadeau gegeven. Ho zelf had als communist misschien liever een simpel graf gehad maar het werd uiteindelijk een monumentale marmeren kubus met daarvoor nog een brede straat voor militaire parades. Als je het lichaam van Ho Chi Minh wil aanschouwen dan mag je geen t-shirt zonder mouwen of korte short dragen. Jammer voor ons maar desalniettemin blijf het een echte must visit.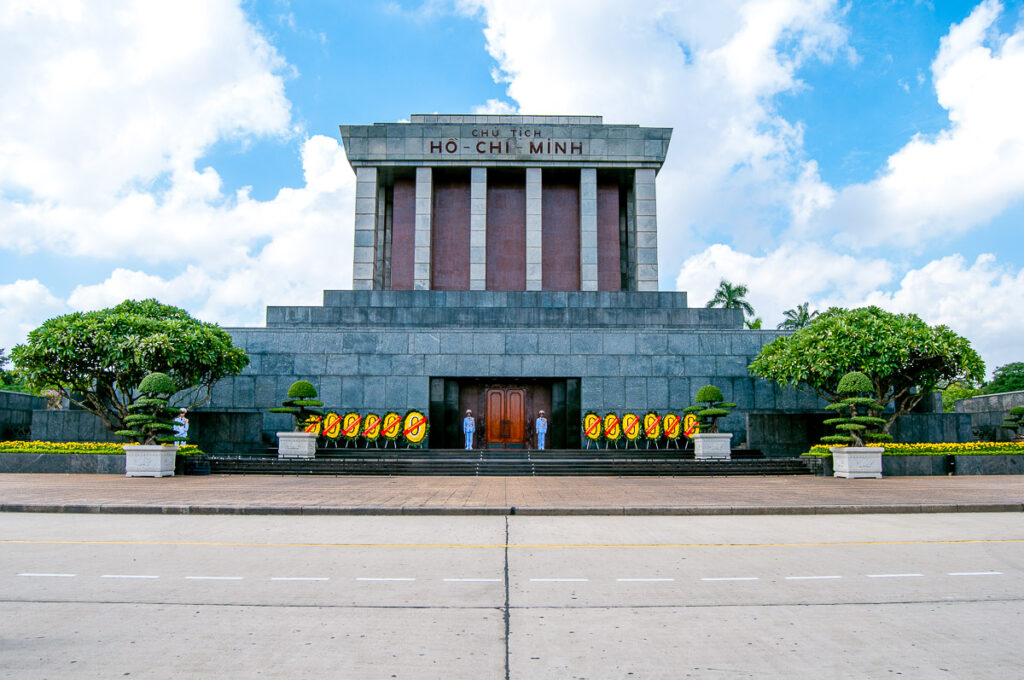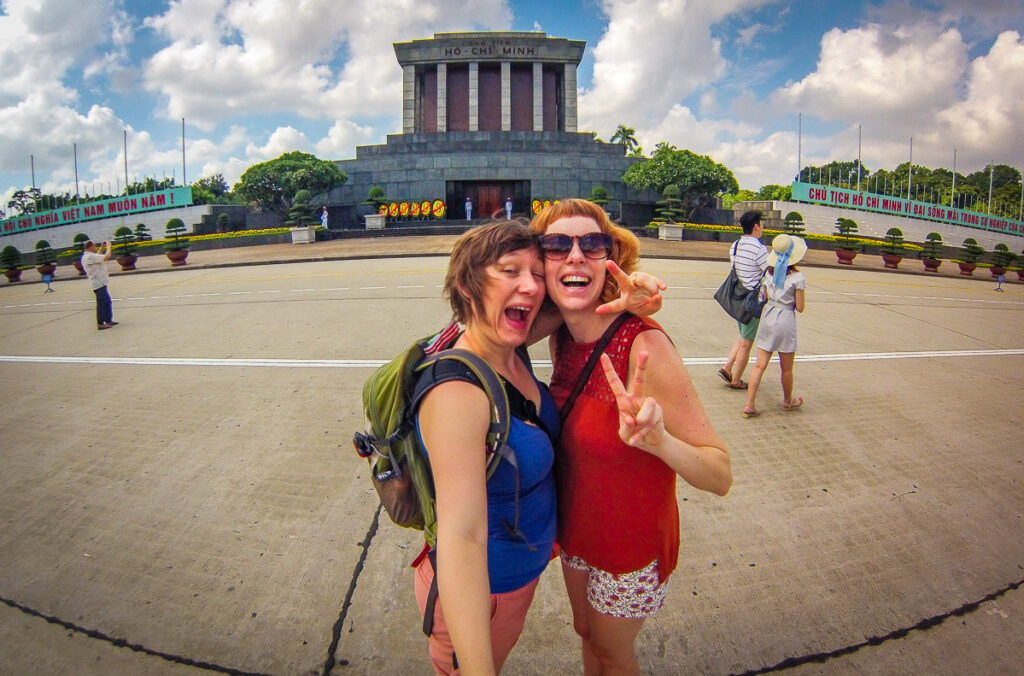 De one pillar pagoda
The one pillar pagoda werd gebouwd door keizer Ly Thai Tong ter ere van de godin van de genade. Die schonk hem namelijk een opvolger. Zoals de naam al doet vermoeden is dit een pagode gebouwd op één enkele pilaar. Het is vooral cute en nu je toch het Ho Chi Minh mausoleum bent gaan bezoeken kan je net zo goed even om de hoek lopen om dit te zien.
Het Vietnam military museum
The militaire museum van Vietnam is vooral een showcase van hun overwinningen op onder andere de Fransen, de Chinezen en de Amerikanen. Verwacht een chaotische setup van vliegtuigen, helikopters, tanks, etc. Als je graag een historische op logische opbouw had gekregen over één van de oorlogen dan is dit museum toch wel een teleurstelling. Verwacht je bovendien aan bordjes met verkeerde informatie. Beklim zeker wel even de hexagonale toren voor het uitzicht. Maar je kan het al raden, dit museum hoort zeker niet bij onze favorieten.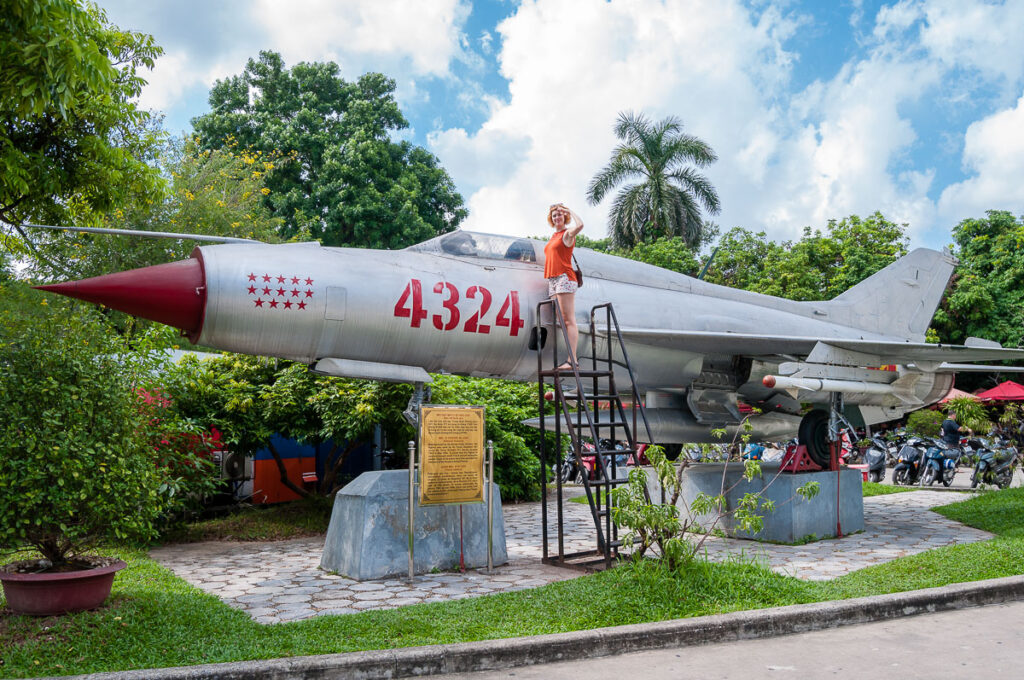 De Imperial Citadel
De Imperial Citadel was vroeger een powerhouse van de Vietnamese militairen. Jammer genoeg werd een groot deel van de citadel verwoest door de Fransen. En ondanks het feit dat dit een UNESCO werelderfgoed site is, valt er hier nog maar weinig echt te zien. We raden dit vooral aan voor echte history buffs.
Tip: Ga wel even binnen in de zijgebouwen waar je heel wat Vietnamese ornamenten kan bekijken. Er zou ook een bunker moeten zijn die wel de moeite is. Gek genoeg hebben wij die gemist. We steken het op de overdonderende hitte.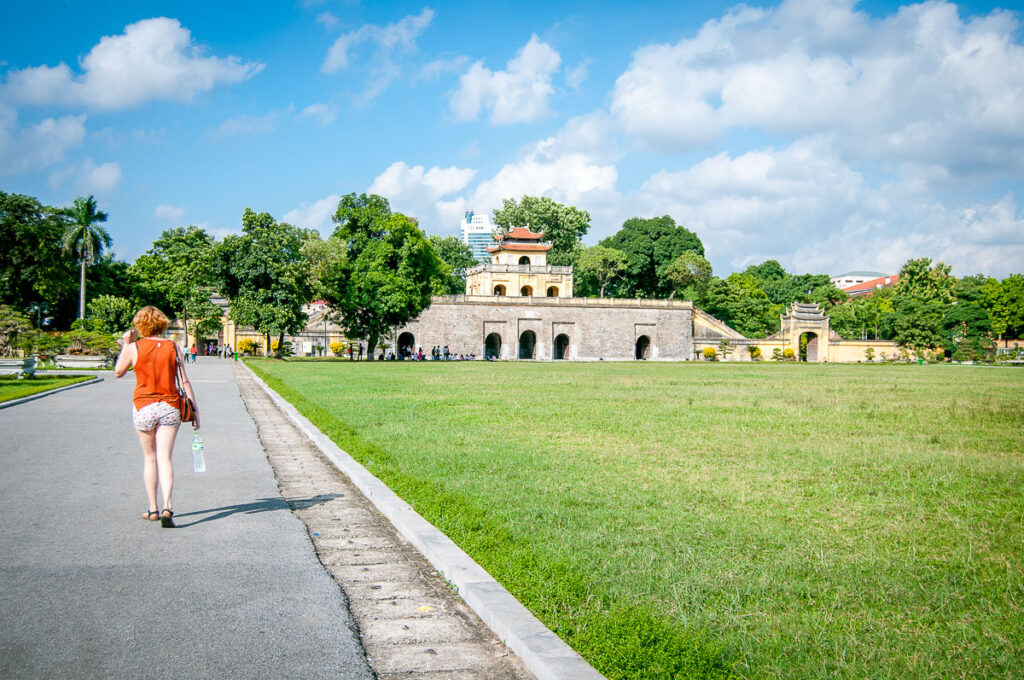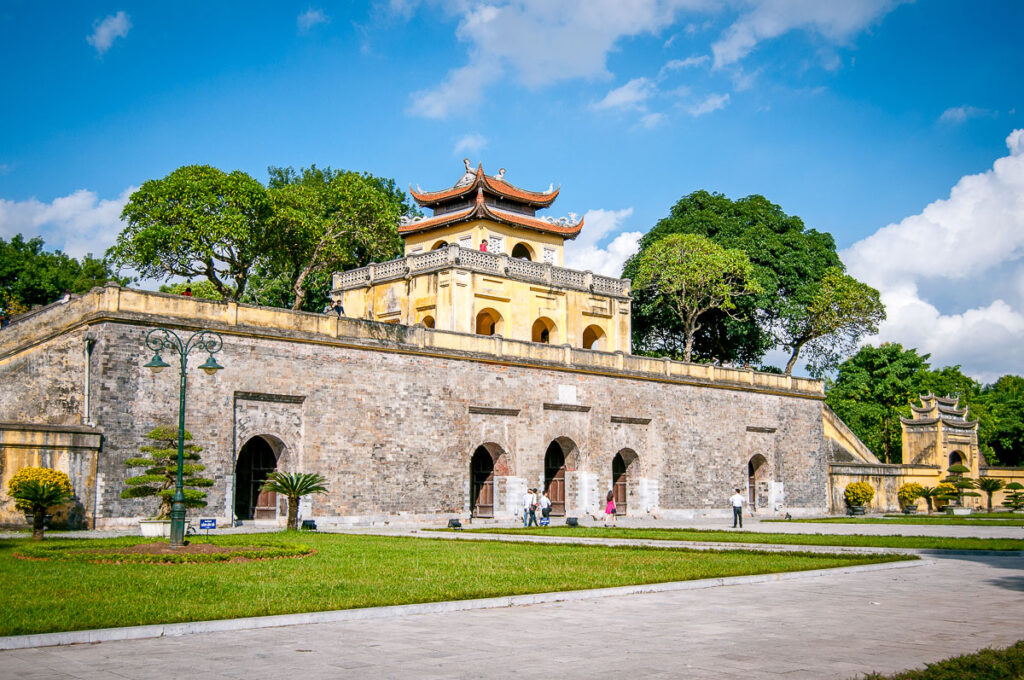 Conclusie
Kom je naar Hanoi, neem dan vooral de tijd om in het oude kwartier rond te dolen. Je ziet er de gekste dingen. Zet je ook zeker neer op een plastieken stoeltje en geniet van wat lekkere street food of een verfrissende Bia Hoi. De meeste tickets voor musea zijn zo goedkoop dat je er gerust een aantal kan bezoeken. Onze aanrader zijn de Hoa Lo gevangenis, de Temple of Literature en het Ho Chi Minh mausoleum. En ga zeker ook even naar het waterpoppen theater.