We hebben 24 uur de tijd om Lake Louise en Lake Moraine te verkennen tijdens de drukke zomermaanden. Het wordt een tocht van babyblauw naar donkerblauw water en van honderden toeristen naar verlaten wandelpaden in bear country.
Lake Louise
Lake Louise ligt tussen Jasper en Banff National Park en trekt hordes toeristen aan omwille van haar prachtige babyblauwe meer. Om aan het meer te geraken moet je met de wagen vanuit het dorp enkele kilometers rijden. Je doet dat best wel zo vroeg mogelijk want het meer is zo populair dat de parkings snel volzet zijn.
De hoeveelheid mensen die aan de rand van het meer staan te drummen voor de perfecte foto nemen wel veel van de charme weg. Op zoek naar wat van die charme kan je natuurlijk wel een bootje huren om te gaan peddelen op het meer. Of je kan wandelen naar Lake Agnes Tea House waar je terecht kan genieten van een taartje. Wij hadden niet veel zin om meer dan uur bergop te lopen in de blakende zon en trokken door richting Lake Moraine.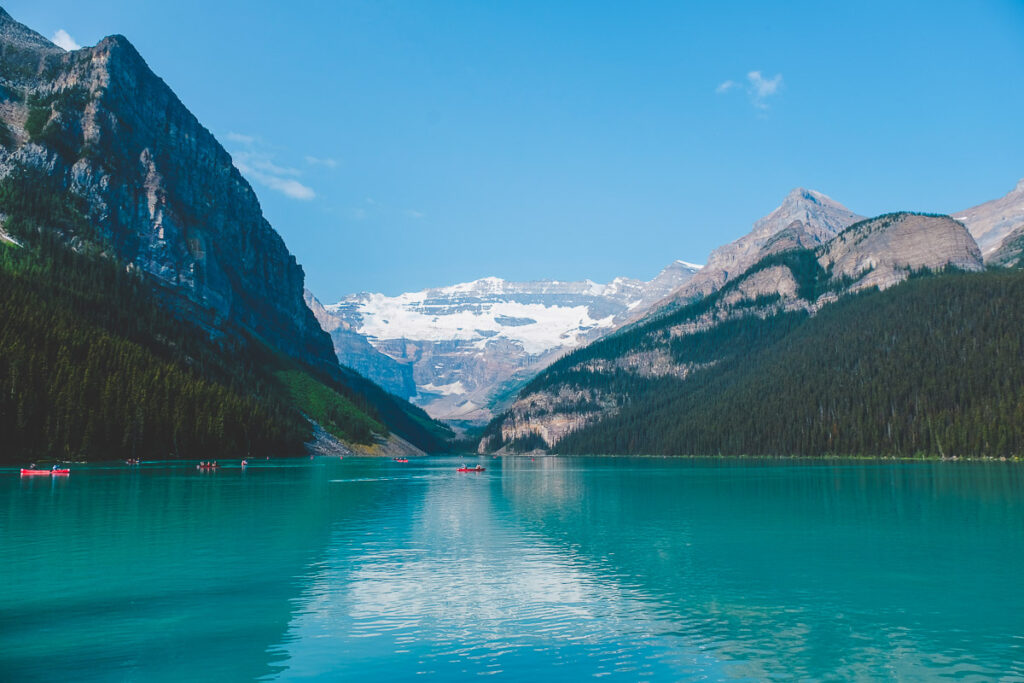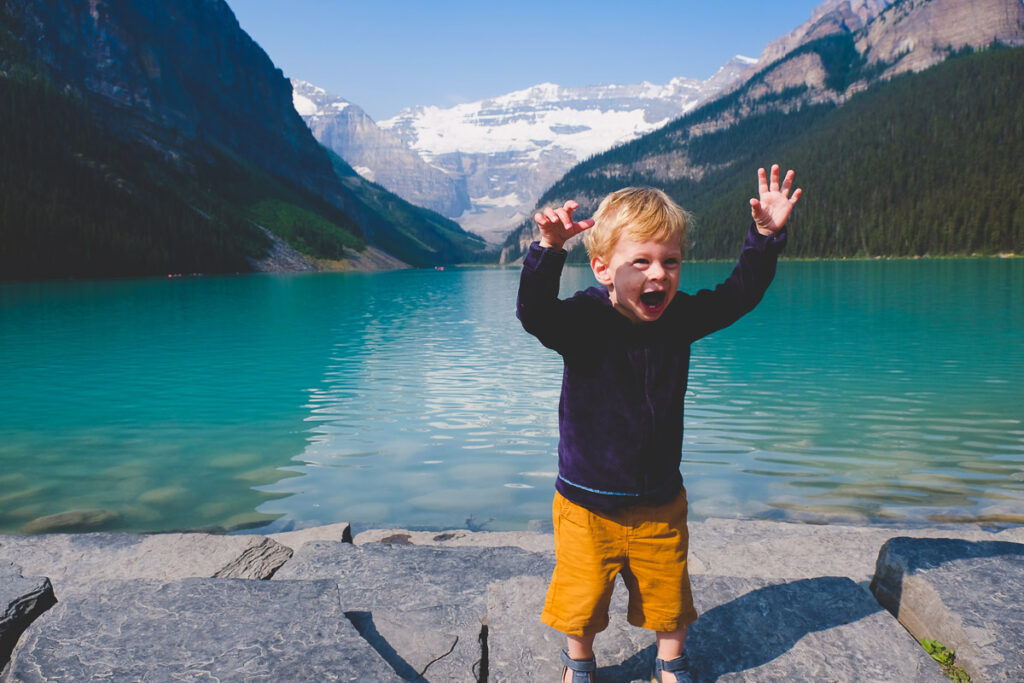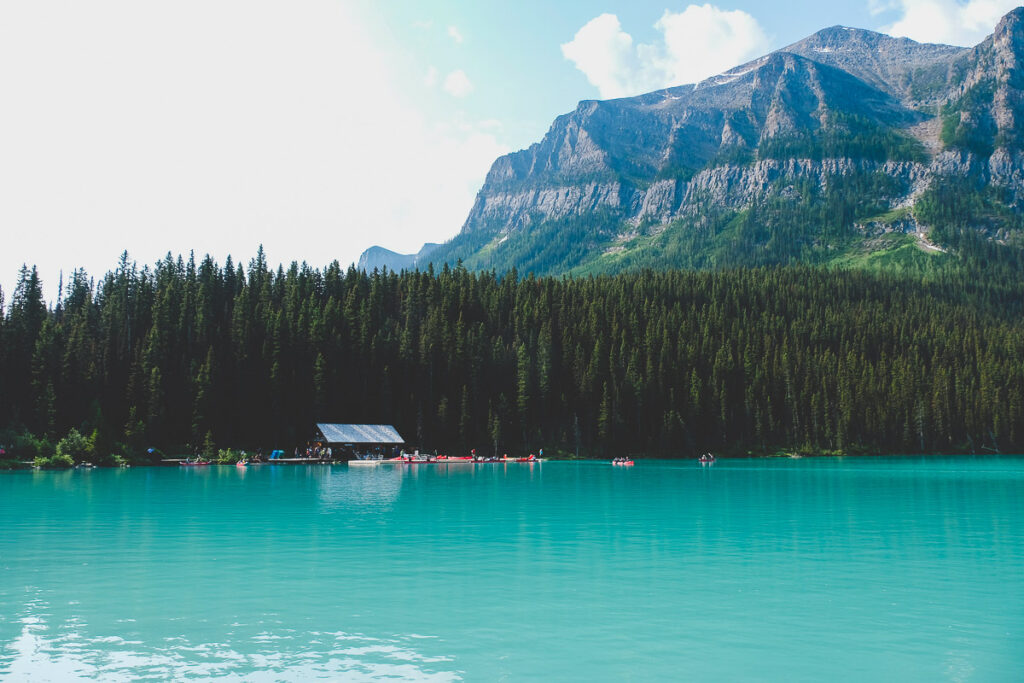 Lake Moraine
Aan Lake Moraine geraken was alles behalve makkelijk. We lieten ons vertellen dat enkel hele vroege vogels – lees zij die voor zonsopgang vertrekken – een parkeerplaats weten te bemachtigen. Het meer is nochtans lang niet zo populair als Lake Louise, de parking is gewoon piepklein. Uiteindelijk kiezen we voor een peperduur pendelbusje dat ons langs de slingerende bergweg tot aan het meer brengt. In tegenstelling tot het babyblauwe Lake Louise is Lake Moraine een felblauw meer. Het wordt geflankeerd door de Valley of the Ten Peaks: tien scherpe met sneeuw besprenkelde bergen. Het uitzicht wordt ook wel eens the twenty dollar view genoemd omdat het uitzicht lang geleden op het twintig dollar biljet te zien was.
Het beste uitzicht op het meer heb je van op de rotsen net naast de parking. Er loopt een wandelpad tot boven, maar wie graag klimt en klautert kan ook een short cut nemen. Na even te genieten van het uitzicht kiezen we voor de wandeling richting Consolation Lakes.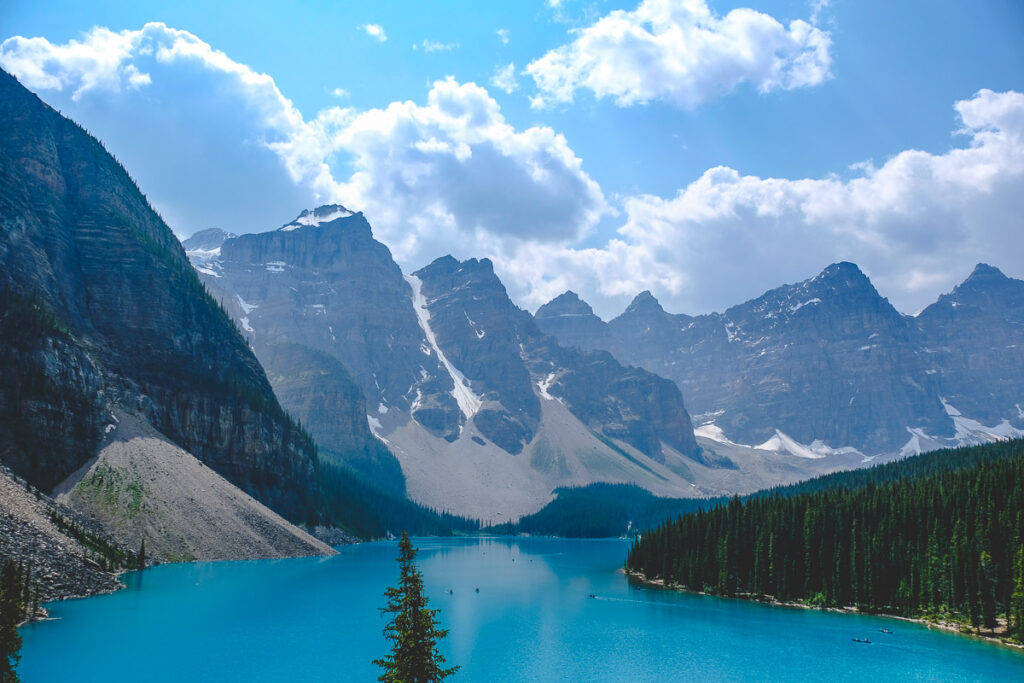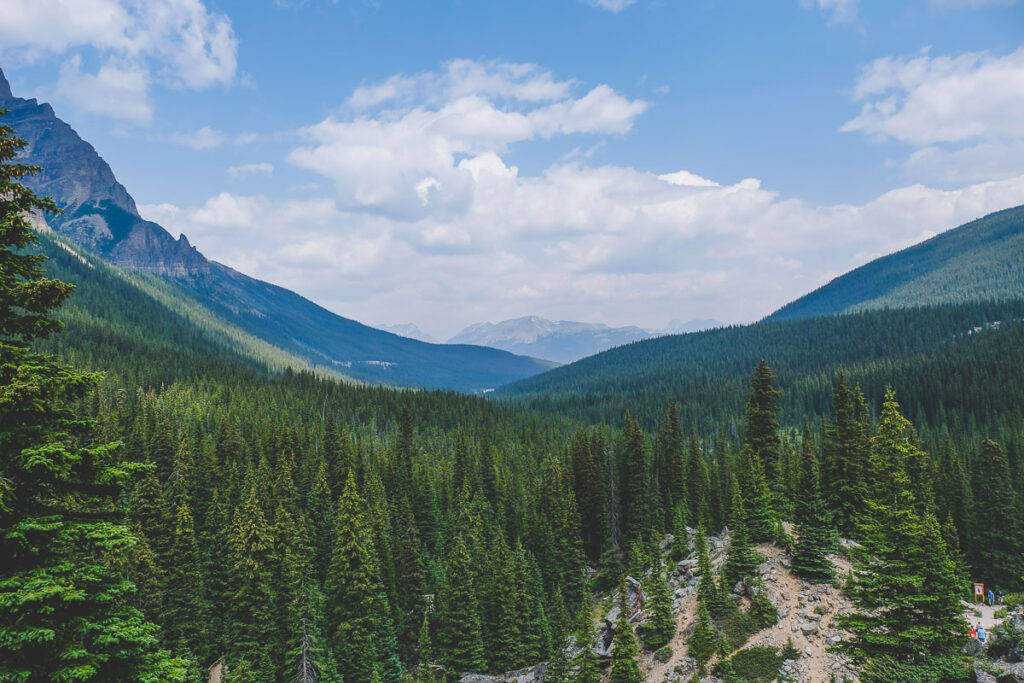 Consolation Lakes
Aan het begin van de trail staat een bord dat ons waarschuwt. We gaan hier door bear country wandelen en je kan hier best in een groep van vier personen wandelen. We maken ons hier niet te veel zorgen om. We hebben bear spray bij en Hannes maakt zoveel lawaai in de rugzak dat de beren ons van kilometers kunnen horen.
Het pad gaat eerst door een vallei met grote rotsblokken en gaat daarna over in een licht stijgend bospad. Naast ons raast de rivier die vooruitspringt uit de Consolation Lakes waar we naartoe wandelen. Het kost ons minder dan uur om de bijna drie kilometer tot aan het meer te wandelen. We springen tot op één van de grote rotsen die midden in het meer liggen en kijken ons de ogen uit. Op twee andere wandelaars na zijn we hier helemaal alleen. Veel van het ijs is al gesmolten waardoor het water hoog staat en we niet veel verder kunnen. Hoog in de bergen ligt de Quadra gletsjer te schitteren in de zon. We knabbelen een koekje op en wandelen daarna terug richting Lake Moraine. Hannes is ondertussen in slaap gevallen in de rugzak en we genieten van de rust en stilte op onze weg naar beneden.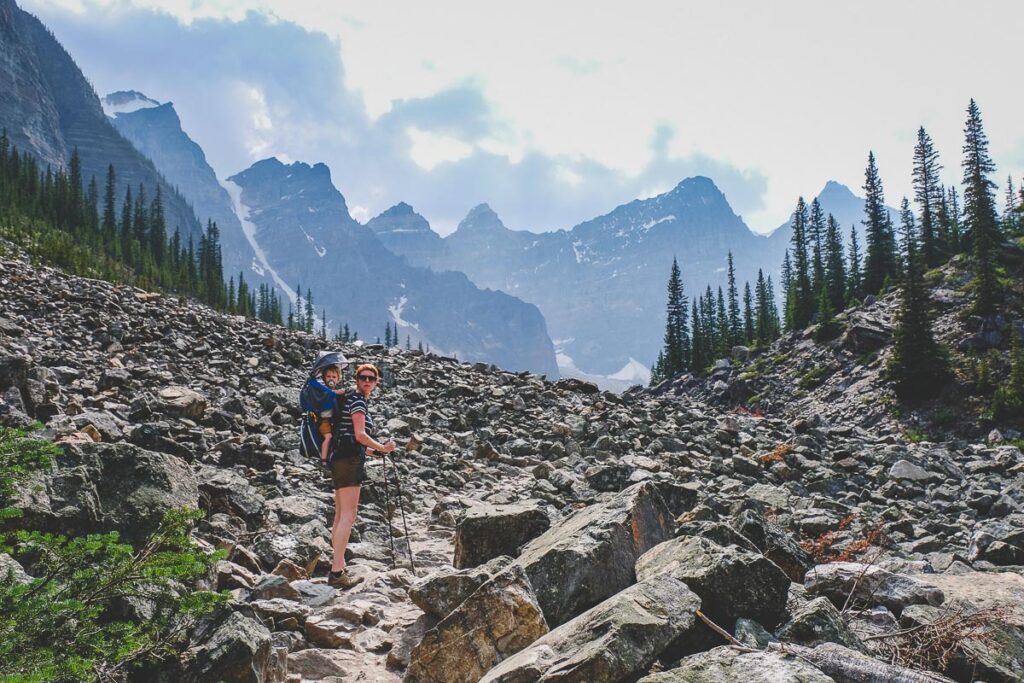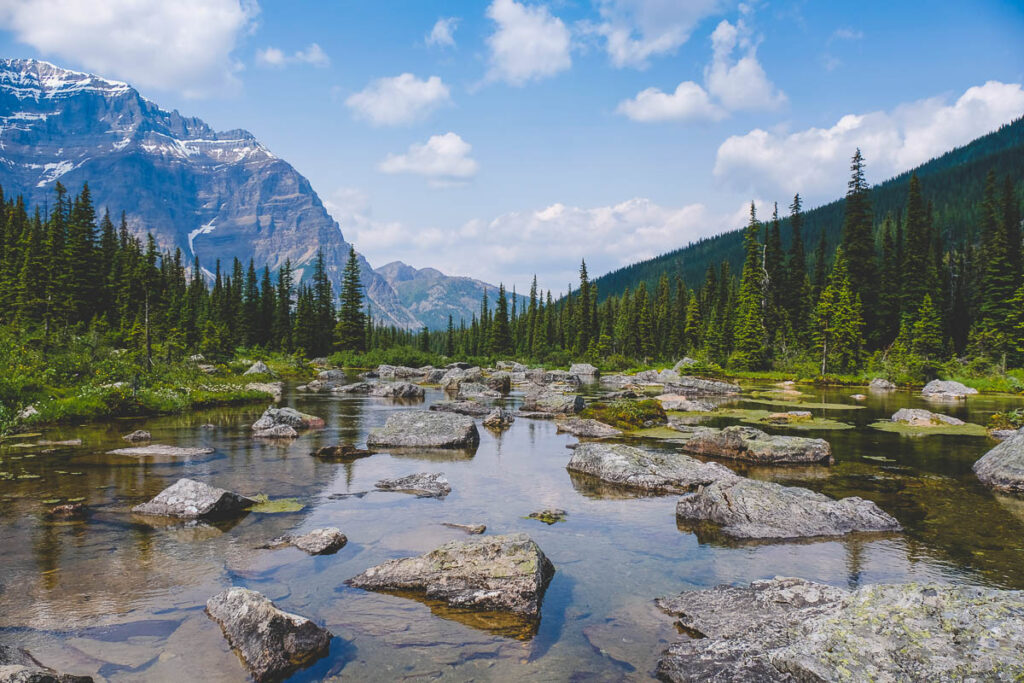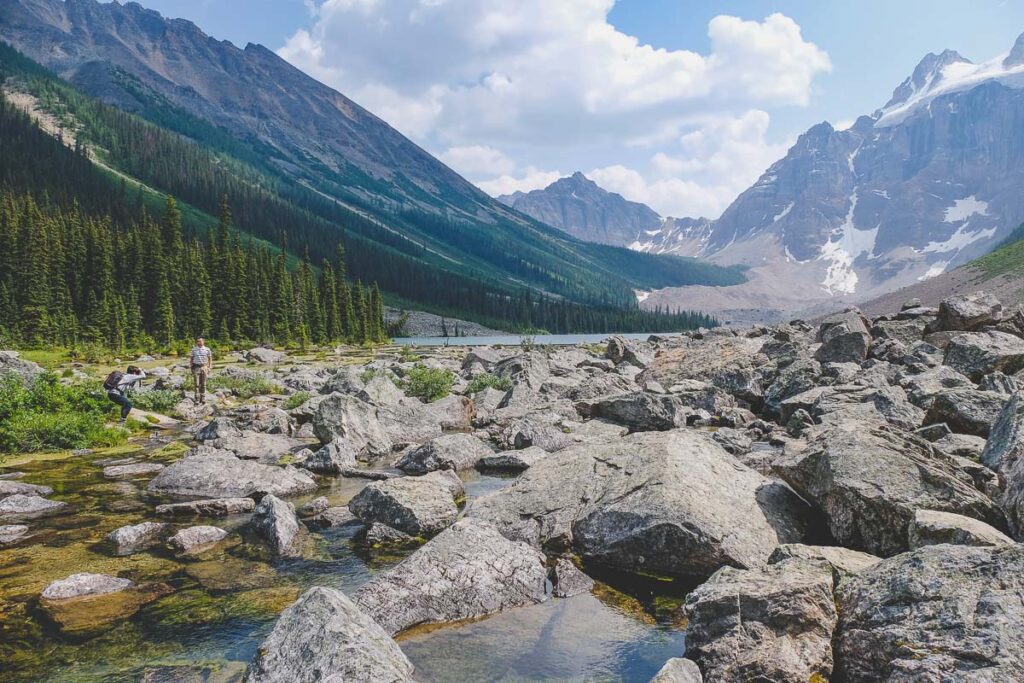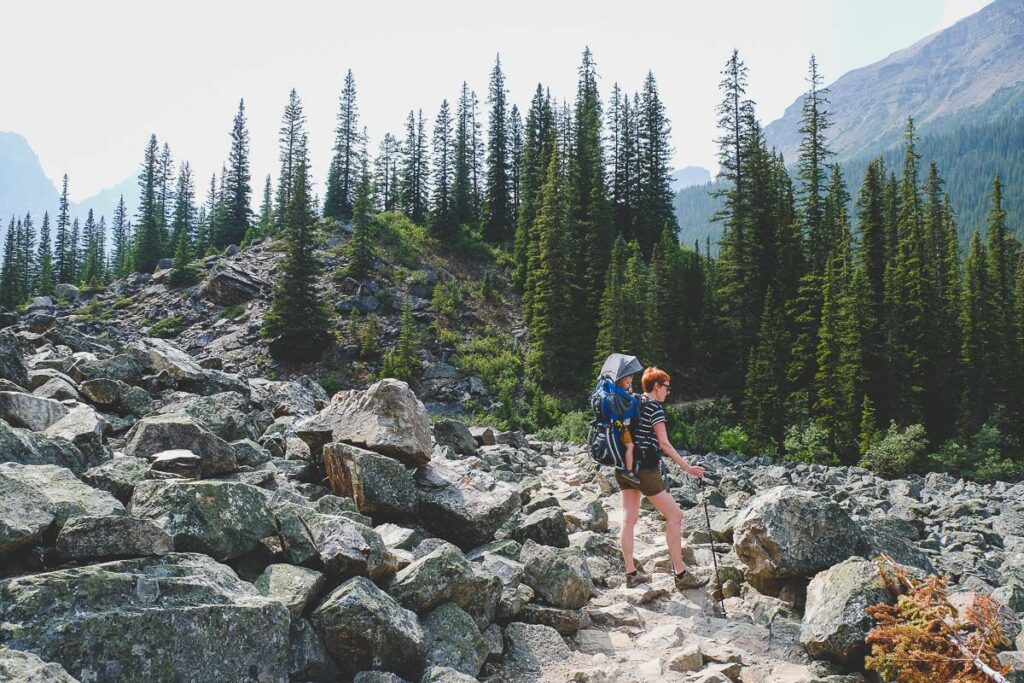 Slapen aan Lake Louise
Je moet heel wat geld neertellen om in het fancy Fairmont Chateau Lake Louise hotel te verblijven. Maar dat is zowat de enige optie om aan het meer zelf te slapen. In het dorp van Lake Louise zelf zijn er wel heel wat opties. Wij kozen voor de Hi Lake Louise Alpine Centre. Piepkleine maar wel proper gerenoveerde kamers. Het grote pluspunt is misschien wel het Bill Peyto's Café dat aan de hostel ligt. Ze serveren er burgers met lokale biertjes voor geen geld.